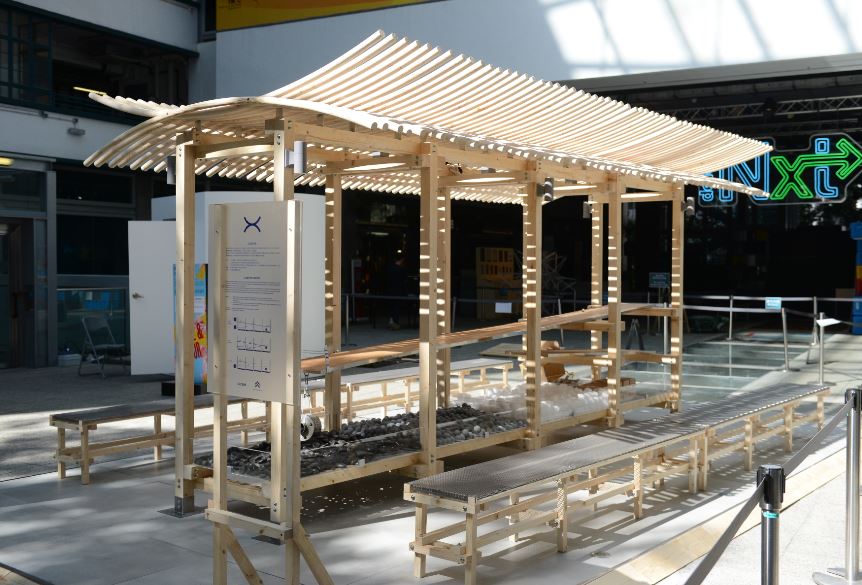 Installations
Flawless Failure
Courtyard
30.11 09.12
Success can bring happiness, but so can failure! Participants are invited to load the carts with pebbles of different weights and compete on the racetrack. The setup of the racetrack will only allow carts of a specific weight to pass through -- the wrong weight will cause the cart to either fly out of the track or crash -- the success rate is only 0.1%! If we are willing to try, failing spectacularly can still be a lot of fun.
Co-Creator
KaCaMa Design Lab
KaCaMa Design Lab excels in sustainable design and the exploration of new design strategies that foster positive community and environmental values. Their scope of service includes product and service design, brand building, event curation and projects that enable cultural development. In recent years, the Lab established a few community cooperation programmes and projects for the enhancement of local public space to promote meaningful interactions between diversified communities and to address environmental issues.
Co-Creator
thecaveworkshop
Established in 2010 in the Kwun Tong industrial district, thecaveworkshop is a new and upcoming team of design creatives based in Hong Kong.

Unlike other commercial practices, the seven team members came from different design disciplines including graphic design, interior design and fashion design. Inspired by Chinese history and culture, their projects are multi-disciplinary creations that fully utilise different areas of design to problem-solve.

The team started out with a handmade experimental reclaimed wood furniture collection, it then branched out to larger art installations, woodwork workshops, as well as passionately contributing creative designs for the community and public spaces.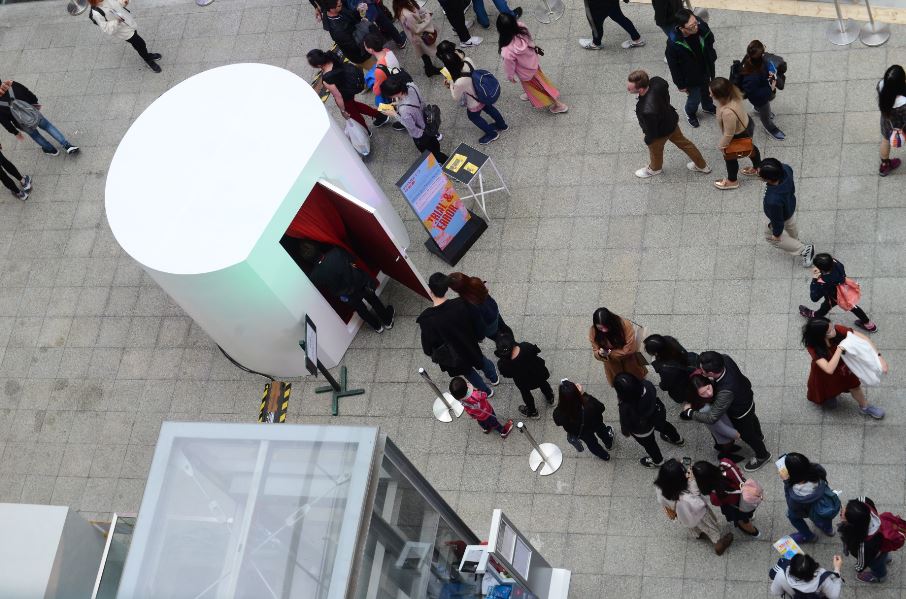 Installations
Project O
Courtyard
30.11 09.12
Ready to step into the shoes of Othello from Shakespeare's classic play?

Based on the "trial" and "error" in the literary masterpiece, the project team designed an enclosed booth for visitors to experience Othello's internal struggle to determine if Desdemona has betrayed him. Testimonies from four main characters in the play will be presented with sound and music that vary with the visitors' every move. Ay, a final judgment must be made in this literature soundscape!


Co-Creator
IMS (Imaginary Machete Swinger)
IMS is a recently formed small network of researchers, artists, and students. Its aim is to establish a co-learning/co-artistry environment through integration and collaboration.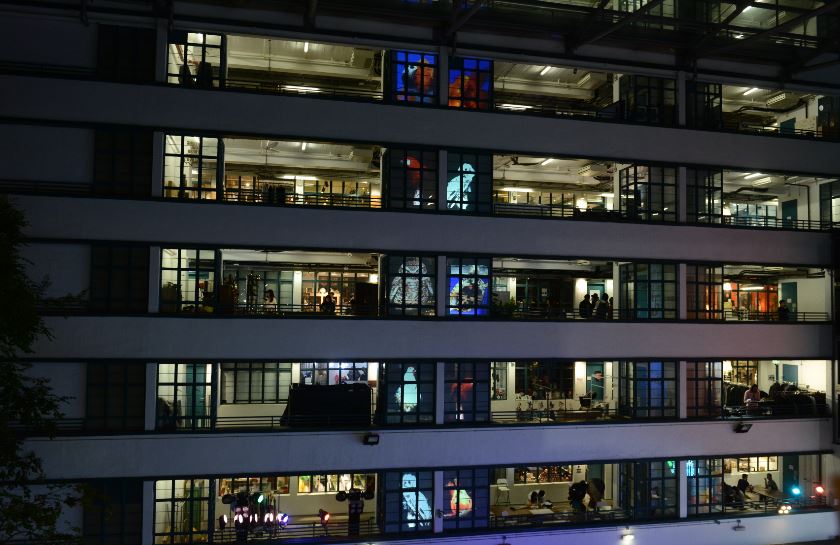 Installations
The Strange Tenants
Courtyard & Verandah
30.11 09.12
Lumieres Hong Kong celebrates its 1st year anniversary by co-presenting The Strange Tenants, an original creation by Stéphane Masson, who was part of the artistic lineup of the 1st edition of Lumieres Hong Kong. Stéphane Masson returns this time to introduce several strange tenants to PMQ. Giant fish, exotic animals and perhaps the person next to you will appear in various window boxes facing the Courtyard after 6pm during deTour.

This surreal and mischievous distribution of moving images will bring a breath of poetry and smiles to our overcrowded city.

This installation will light up after 6 pm each day during deTour.
Co-Creator
Stéphane Masson
Stéphane Masson is a videographer whose creativity is expressed by hijacking mundane objects with moving images. Answering to an urge to inject a bit of craziness and magic in our everyday lives, he poetically transforms our environment with surprising artworks.
Co-Presenter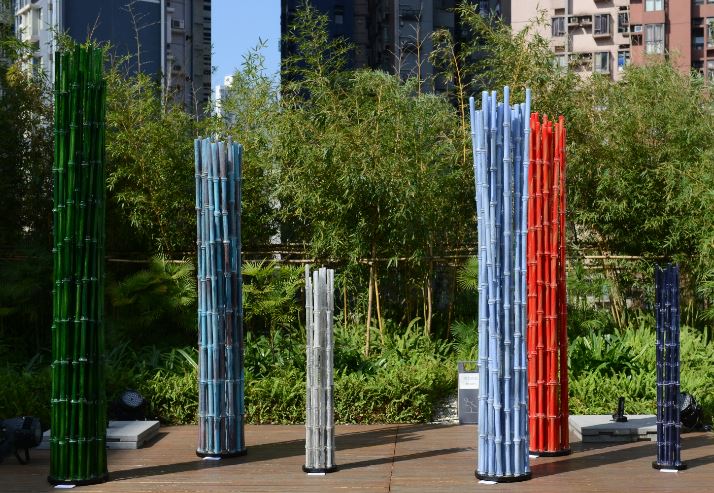 Installations
Canneto
Rooftop Garden
30.11 09.12
A piece by the renowned Italian artist Pino Castagna, Canneto is bushes of bamboo made of Murano glass. Bamboo, in many oriental cultures, symbolises purity and virtue. The incomparable straightness of the bamboo, the perfection of its impetus towards the sky, and the knots between the hollow parts are laden with meanings. The sound of bamboo leaves moving in the wind, to certain masters, is associated with enlightenment. Italian craftsmanship embodying Chinese spirit may remind us of Marco Polo's travel to China hundreds of years ago.

An accredited installation of BODW City Programme.
Co-Creator
Pino Castagna
Pino Castagna was born in Castelgomberto, in the province of Vicenza, Italia, in 1932.

He completed his academic studies in Verona and Venice. Over the years, he acquired and improved the various skills and his knowledge of working with materials like ceramic, glass, marble, wood, bronze, aluminium, cast iron, cement and steel. His artistic research, in fact, is characterized by his experimentation in the use of the medium, and by continually going beyond the extreme limits of the resistance of the materials. He creates imposing works that are often placed in spectacular natural spaces, creating a continual dialogue-exchange with the surrounding space.

Castagna's models are Brancusi, Derain, Modigliani, Wotruba and Guerrini for their anti-classicism. The artist's sculptures are obvious transpositions of a subjective idea completely in tune with the environment in which they are placed.

The artist's most important one-man shows have found, moreover, their ideal, open-air locations in the main historical centres of cities in Italy and Europe. With his retrospective at Trento's Palazzo delle Albere and the survey exhibition in the rooms of Mantova's Palazzo Té in 1985, Castagna's importance in the international art world was recognized. His success was confirmed the following year with his participation in the 42nd Venice Biennial, with the memorable cast iron installation of Sails (1981) on the bank of the basin of San Marco.

The architectonic and environmental ambition of Castagna's sculptures is revealed in a series of urban-scale initiatives including Cascade (1991-1992), a work placed in the countryside along a French motorway near Lyons; the open-air church in the courtyard in front of the Parish Church of Zermeghedo (1994); Monadi, a steel and cement sculpture intended for the Villa Glori sculpture park in Rome; the glass Reed, acquired by the Chamber of Deputies, now part of Montecitorio's contemporary art collection (2001); the Venetian Block, a sculpture made of Murano glass and steel, about 10 meters tall that rises in the Center of the Rotonda Maria Rosa Molas in Castellón de la Plana, Spain (2002).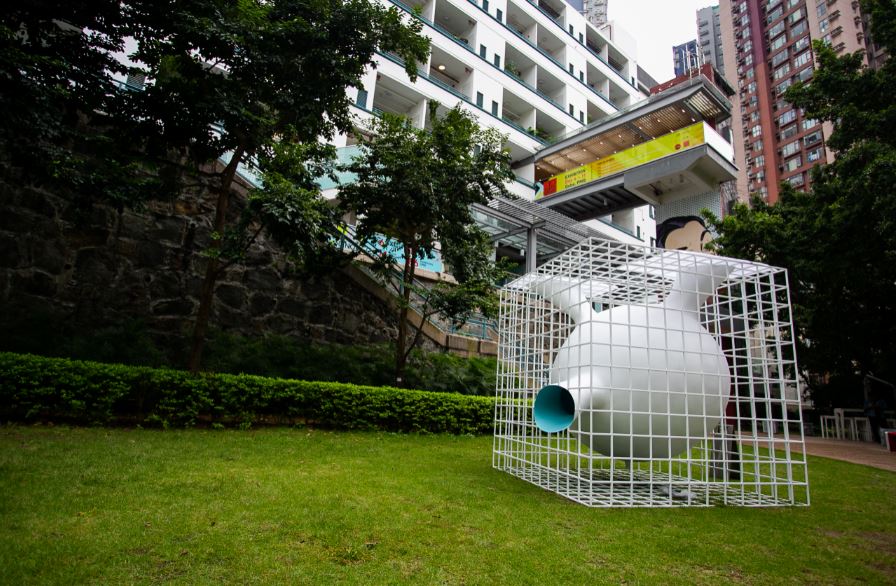 Installations
The Unknown Machine
Hollywood Garden, LG/F
30.11 09.12
Bernard Rudofsky's intriguing book Now I Lay Me Down to Eat illustrates alternative ways of living in the past and inspires us to imagine a new way of living.

The Unknown Machine encourages interactions amongst people, and interactions with nature with its design and structure. The organic core inside the cubic lattice frame has protruding "arms" that are peering holes. Visitors are invited to peep into the holes, observe each other through reflected images: stay, explore and imagine. Drawing people together is the closest way to share, transfer, search and understand the different truths (the unknown) of other individuals.
Co-Creator
Chan Pak Chuen
Chan Pak Chuen was born in 1990 and completed Master of Architecture in 2016 and a bachelor degree in Architectural Studies in 2013 at Chinese University of Hong Kong (CUHK). He was awarded the Wharf ArchDesign Trust Scholarship in 2016 and the Cliftons Art Prize in 2012.

Chan's creative works reflect on the relationship between space and human in the big data era, and criticise the crux of the contemporary society.
Co-Creator
Poon Tsz Long, Sunny
Graduate of CUHK Master of Architecture in 2016, Poon is working as an architectural and interior designer. He is passionate about metal arts, creative devices and kayaking.
Co-Creator
Fong Ming Him, Arthur
Arthur Fong has a Master in Architecture; he is interested in studying architecture as an organic extension of the human body.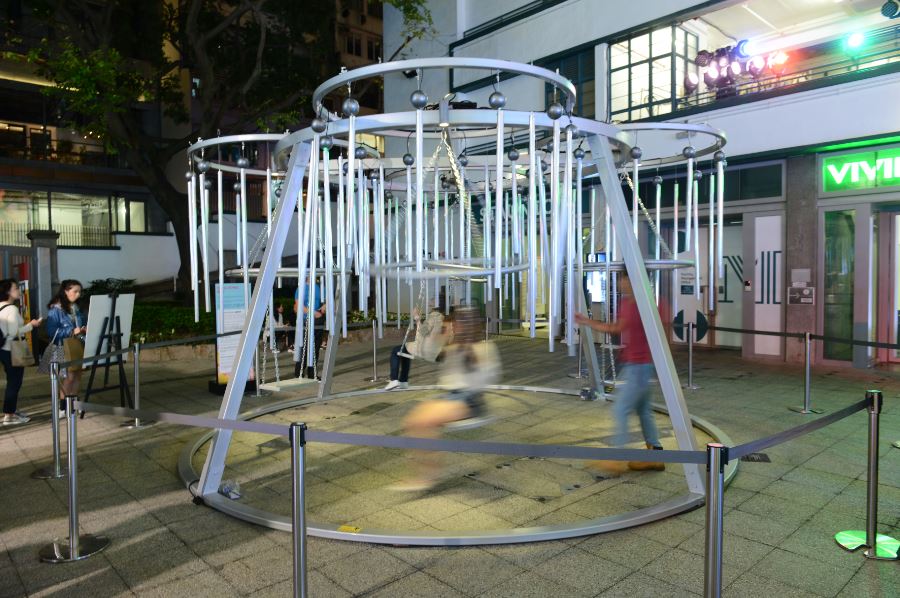 Installations
Ding Dong
Courtyard
30.11 09.12
Ding Dong is an experiment to transform a musical instrument into a spatial structure. It subverts the experience of listening by situating the audience within the instrument to become part of the instrument.

A set of swing boards amongst large wind chime tubes allows participants to slow down and enjoy the movement of swinging, surrounded by the glow and tinkling of the chimes and be engaged in a whole new musical experience.

Co-Creator
Trilingua Design
Trilingua Design was established in 2010 by Adonian Chan and Chris Tsui. Their design service includes publication design, branding, visual identity, lettering, website design and exhibition design. Clients include West Kowloon Cultural District Authority, University of Hong Kong, City University of Hong Kong, Greenpeace, Ad-lib, etc. Trilingua also zealously works for local art groups, including Hong Kong Art Centre, Soundpocket, Ying E Chi, Hong Kong House of Literature, etc.

Trilingua is now researching and developing a typeface called "Hong Kong BeiWei Kaishu". The studio has also been creating type design related art works.
Co-Creator
Hanc Design
Hanc Design was founded in 2014 by Angus Ngai, a Registered Architect (HKIA) in Hong Kong. He is a multi-disciplinary designer with over 10 years of experience in designing and producing hardwood furniture. He is also a Part-time Lecturer at The Hong Kong Polytechnic University.

Angus aims to realise and infuse Chinese traditional aesthetics into the modern living environment in Hong Kong and China.
Co-Creator
WEEWUNGWUNG
Founded in 2015, WEEWUNGWUNG is a digital design studio based in Hong Kong focusing on web and interactive experiences.

Working closely with renowned graphic designers, artists, curators, and corporates, WEEWUNGWUNG continues to promote creative modern browsing experiences to create a lively presence for brands and events on the world wide web.