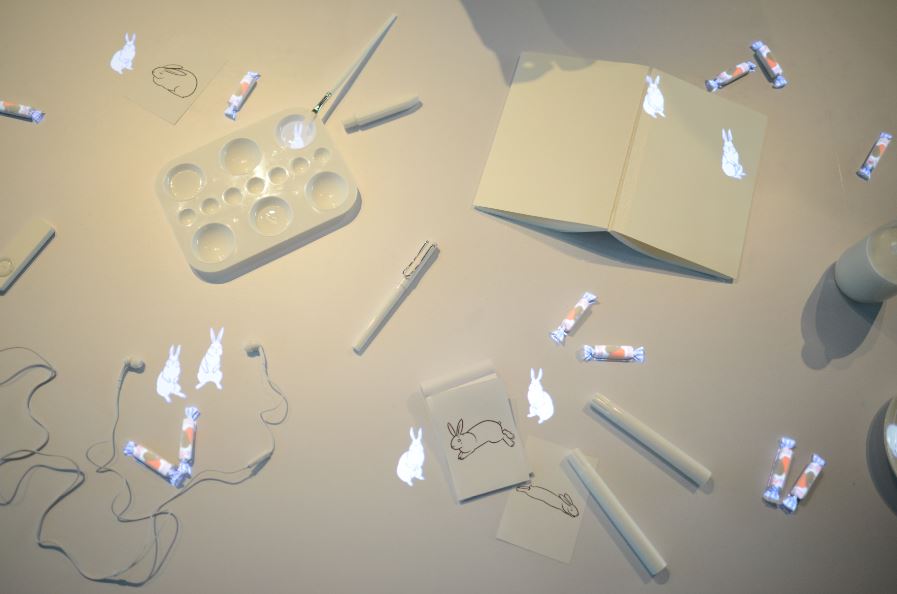 Exhibitions
White Rabbits, Let's Play
Unit S510, Staunton Block A
30.11 09.12
Connecting technology and imagination, White Rabbits, Let's Play is a sound-reactive projection mapping installation.

As the designer leaves to take a breather, white rabbits hop out of the candy wrappers one by one to wander curiously around the workstation, leaving their footprints on the designer's belongings. Look, the sneaky rabbits are gathering around the snack and taking a nibble of it!

Visitors are invited to surround the workstation and interact with these naughty creatures. But remember, any loud sound, like a clap or a shout, will send them scurrying back to their packaging.

Co-Creator
Matthew Sia
"Always be curious. To understand something is not just about being able to define or describe the subject. Instead, taking something that I already know and making it unknown thrills me. It refreshes and deepens my understanding of the subject."

Matthew Sia is a graphic and interactive designer based in Singapore. He recently graduated from the London College of Communication and holds a BA in Graphic and Media Design (Design for Interaction and Moving Image).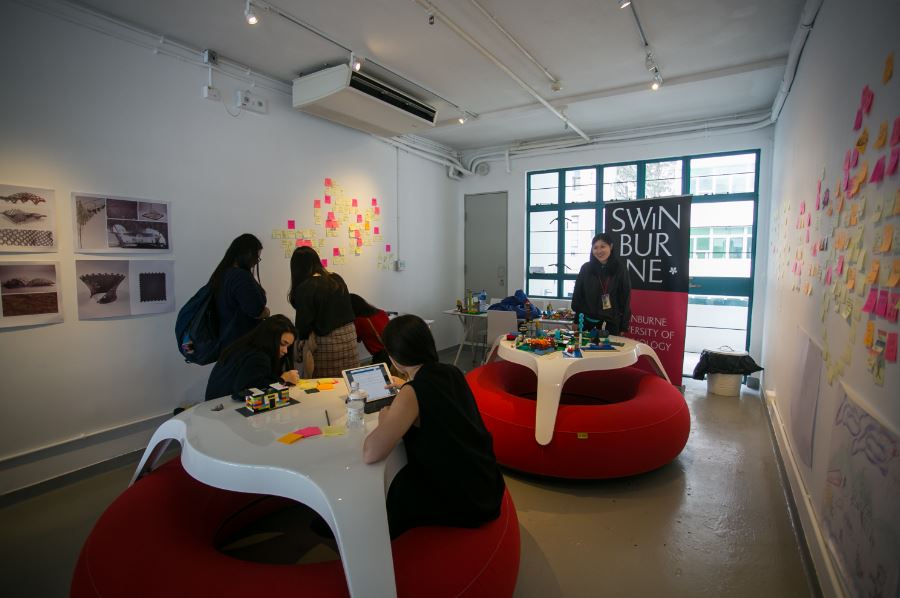 Exhibitions
Design and the City: Urban Futures Lab
Unit S603, Staunton Block A
30.11 09.12
Experiential futures are an immersive way to enable people to share in a glimpse of the future of cities and urban environments. The exhibition space combines the display of artefacts and public participatory design activities to stimulate conversation and the development of material outcomes related to urban futures in Hong Kong.

The exhibition comprises the works completed by Honours students in Interior Architecture at the School of Design at Swinburne University of Technology, Melbourne, Australia. Themed "Melbourne 02068: designing our futures", the exhibits are students' imagination of what it might be like to live in Melbourne 50 years from now and their exploration of how to influence change.

The participatory design activities will produce further future-oriented artefacts for "Hong Kong 02068"— a project to be participated by postgraduate students from the same school as part of their multi-disciplinary design study tour in Hong Kong.
Co-Creator
Dr. Samantha Edwards-Vandenhoek (Program and Workshop Co-Lead)
Dr Samantha Edwards-Vandenhoek is a digital media artist, designer and educator. Samantha's research seeks to understand and advance the role place-based design education plays in social well-being, community belonging and economic development. As an educator, Samantha believes that by engaging design students in meaningful collaboration with social, political and environmental issues they learn to become empathetic creative practitioners and design thinkers aware of the inherent power of visual communication to transform the world in which we live. In 2011 and 2015 she was the recipient of the highly prestigious Vice Chancellor's Award for Teaching Excellence and Community Engagement.
Co-Creator
Bridgette Engeler (Program and Workshop Co-Lead)
Bridgette Engeler is a pracademic working across strategic design, innovation and foresight. A futurist and strategic designer, she is Course Director for the Master of Design program at Swinburne University, and she regularly collaborates with industry and organisations on futures-oriented projects and programs. Her work spans across strategic and transformative design, speculative design, experiential and critical futures, and transition design. Bridgette's research interest is the nexus created between strategic design and strategic foresight, and emergent opportunities intersecting design, ecosystems, people and technology.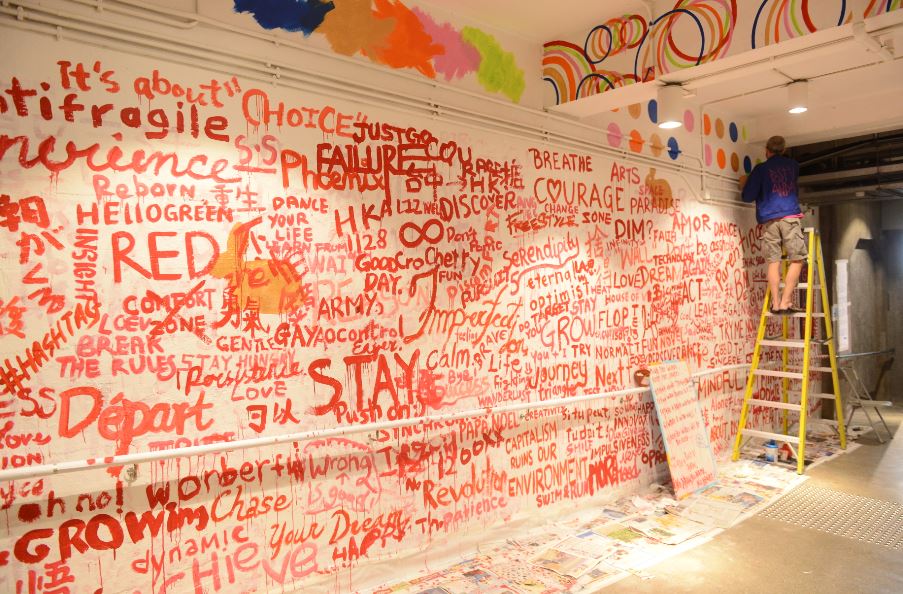 Exhibitions
move the words, keep the shapes
Corridor, G/F, Staunton Block A
30.11 09.12
As a street artist, SP38 likes working outdoors and in public so that his works are accessible to all.

Creating in public brings an additional dimension to the artwork; viewers' comments, questions and their proximity have an alchemic power over the final piece of work.

With live painting, the idea that a painting can be an ephemeral and evolving object is more evident. The process becomes a research, as well as a challenge, where tests are permanent, defects are allowed, and errors are visible, to metaphorically align with the theme "Trial and Error".

Co-Creator
SP38
Sylvain Perier, professionally known as SP 38, is a French painter, street artist, billsticker and performer. He was born in 1960 in Coutances, Normandy of France. First classified as belonging to the Figuration libre artistic movement, this international figure of street art has produced artistic works in many countries.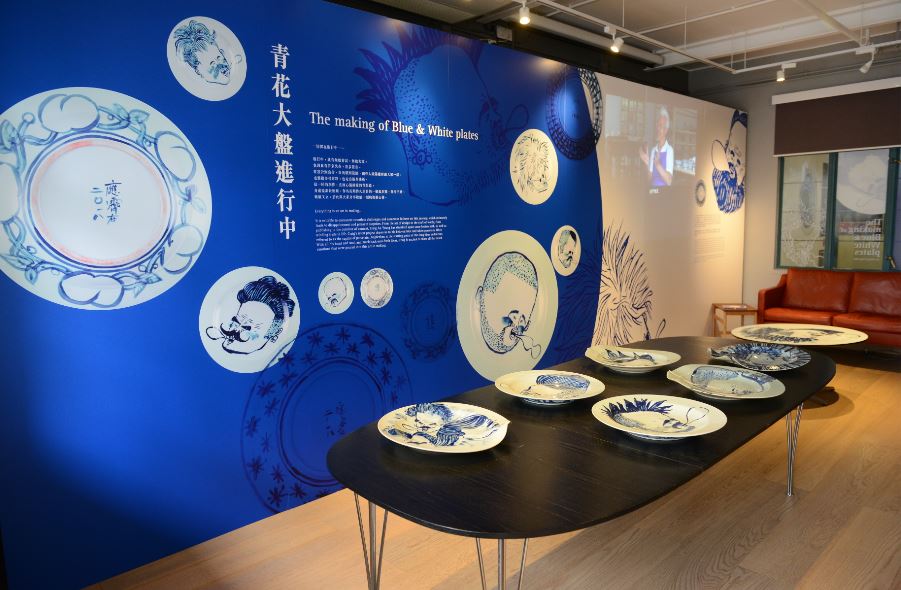 Exhibitions
The Making of Blue & White Plates
PMQ Taste Library, H504, Hollywood Block B
30.11 09.12
This summer Craig Au-Yeung went to Jingdezhen, the "porcelain capital" of China. He lived the life of an artisan and worked on 49 blue and white large porcelain plates.

He painted on these 49 plates bearded men with eyes half closed and mouth opened as if they were speaking. These caricatures represent the artist's reflection on the world, art and the self. The back of the plates are the artist's spontaneous wild drawings.

He named this porcelain plate series Starters, a play on the Chinese characters "head" and "plate" which together mean starter.
Co-Creator
Au-Yeung Ying Chai Craig
Born in Hong Kong, Au-Yeung Ying Chai Craig is a food curator, a cartoonist, and a food, travel and lifestyle writer.

Au-Yeung founded Taste Library in Hong Kong in 2014, and organised "Craig's Half Full Kitchen" in Beijing in 2015. In 2018 he established the cultural space Qizai in Xian, to enrich the culinary art and food aesthetic scene with diversified content.

Au-Yeung was the ambassador for Slow Food Great China in 2017.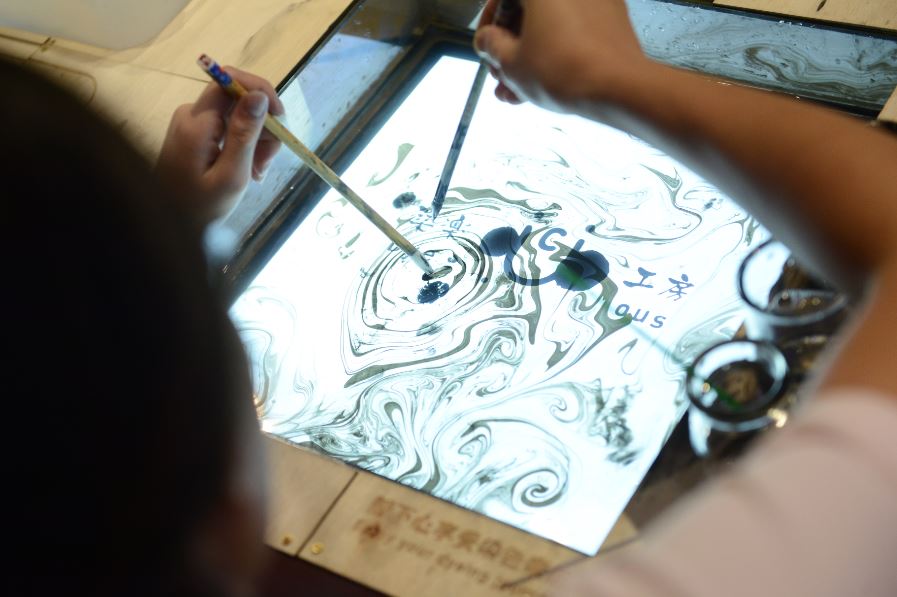 Exhibitions
Floating Journey
Unit S505, Staunton Block A
30.11 09.12
Floating Journey is inspired by suminagashi, the traditional Japanese art of water marbling that embodies the spirit of "living in the moment". Floating pigments are swirled into kaleidoscopic patterns using pointed tools. The unpredictability of the creative process is not dissimilar to life. Participants are nonetheless reminded that experimentation can bring about beautiful surprises.

The Japanese zen garden-inspired exhibition includes an experimentation zone and an experience zone in which visitors can go on a meditative creative journey and leave with a souvenir toy boat.

Co-Creator
Dyelicious
Using leftover food as key ingredient for their dye, Dyelicious' products were hailed as having the 'world's most beautiful colors' at the 2015 Milan World Expo. At the studio, one can find colors belonging to Hong Kong, to food and to each of us.

Dyelicious has always strived to give leftover food a starring role, to let people find the moving and happy aspects of life as well as experience the art of living.

The team hopes that with the infusion of modern technology, the traditional art of dyeing can find new expressions. With its persistence in environmental protection and innovation, Dyelicious is named the 'Solution of Future Food for Climate Change' at the 2018 Rome Make Faire.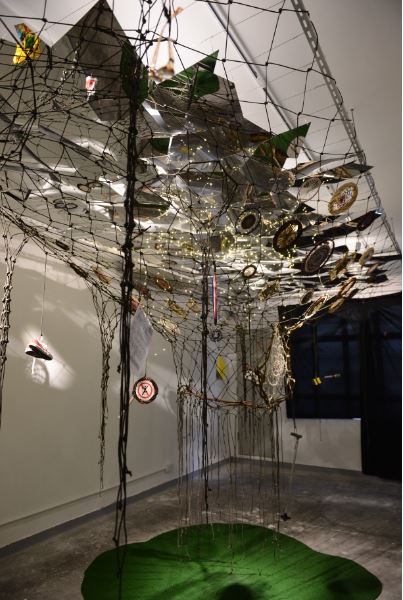 Exhibitions
Tree. Journey. Find
Unit S211, Staunton Block A
30.11 09.12
Similar to the life of a tree, personal growth comes from overcoming obstacles and learning from mistakes. These experiences become the foundation of a fruitful future.

This installation is a collection of memories in the shape of a tree. Through the nostalgic items suspended from the tree, visitors can recall their own "Trial and Error" moments with fondness.


Co-Creator
Mishtar
Mishtar was established in 2010 by Mike Hung and Ishtar Yu, specialising in handmade ethnic inspired designs and products.

Mishtar is a Hebrew word which means "the power and the rule". The team believes that creating within specific rules and style can still lead to infinite possibilities. They hope that through their work, people can pay more attention to the fun elements in life, and thereby impacting other lives.

The ethnic symbols and natural materials incorporated in Mishtar's creations are the ways that the team passes on the blessing and respect for nature associated with the dreamcatchers.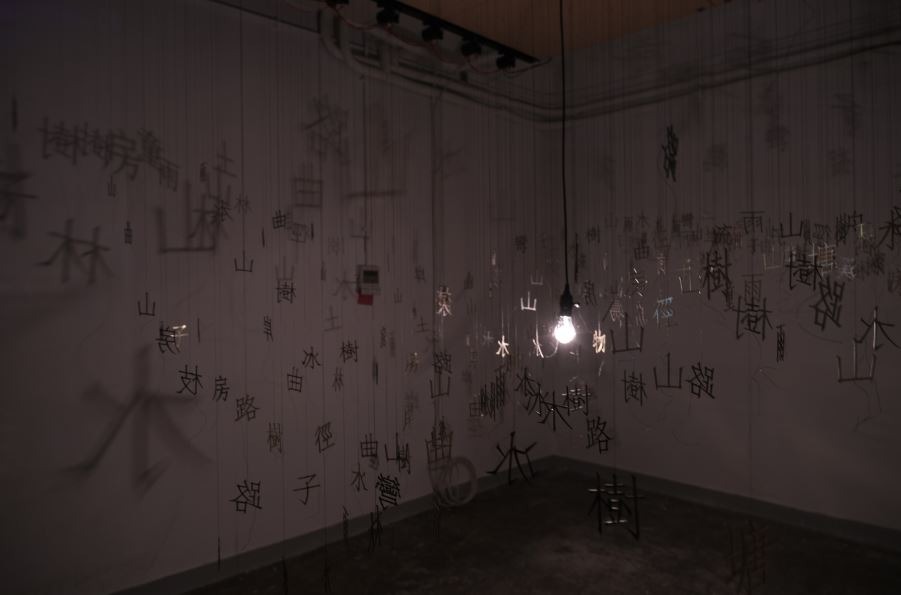 Exhibitions
Slow Sculpture — Mountain Water People Creature
Unit S201, Staunton Block A
30.11 09.12
Our city's development and redevelopment are similar to a slow sculpturing process, a constant form-finding exercise in search of its ideal composition. Inspired by local writer Xixi's concrete poem, the artist uses algorithmic 3D modeling tools to transform the Hong Kong cityscape into a spatial poem.

The installation is an abstraction of past to future urbanization through a sequence of words, music, lighting and poetry. A sea of floating words morphs into different landscapes and cityscapes. As the shape of our "future city" emerges, what's next?


Co-Creator
Bong Yeung (littleurbanmountain)
Born in Hong Kong, Bong Yeung studied Architecture and graduated from the Bartlett School of Architecture in 2011. During his final year, he received Dean's List for "Distinction in Design" and Merit in Thesis, and was selected by Blueprint Magazine as "one of the Best of the Student Shows". Yeung worked on several projects in London, Oxford and Exeter and became a UK Registered Architect in 2014. From 2011 to 2018, he worked at the Foster + Partners Hong Kong office, responsible for high profile projects in Asia such as the Murray Building Hotel, Ocean Terminal Extension and Wuhan masterplan. He has also taught part-time in a design module at HKU Space and was a guest critic at CUHK and HKU.

In 2017, Yeung won the UNESCO UCCN Shenzhen Design Award For Young Talent. He is the Founder and Design Principal of littleurbanmountain, a studio that focuses on architecture, interior design and art projects. His work has been selected by Drawing Prize and was exhibited at the World Architecture Festival in Berlin and Sir John Soane's Museum in London from 2017 to 2018. Yeung received a special mention from the jury in ArchiGraphicArts Drawing Competition 2016-17 in Russia. In 2016, a team of three from HKU Space led by Yeung gained an honorable mention for the Flexible Housing Society Contest in Spain.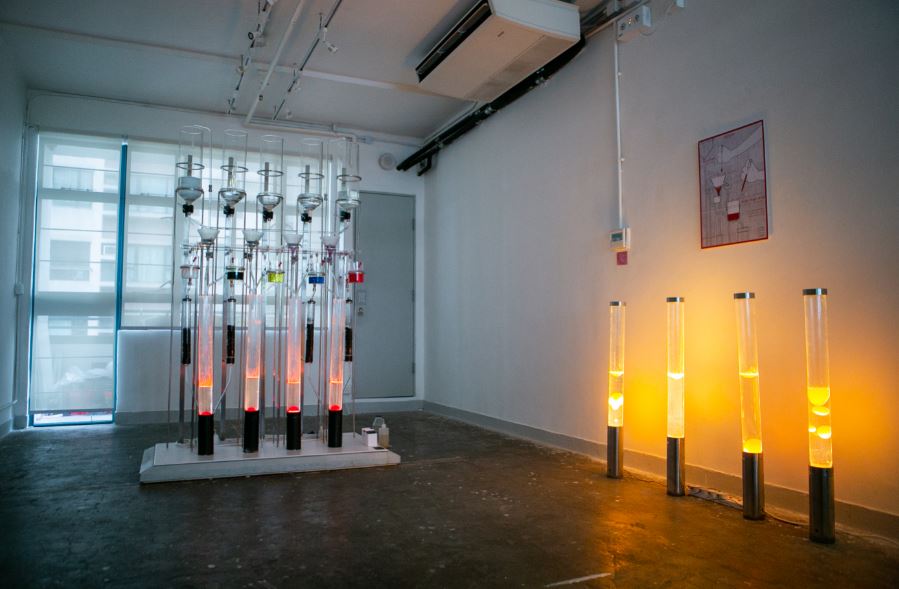 Exhibitions
(de)color
Unit S512, Staunton Block A
30.11 09.12
(de)color is a physical manifestation of the "Trial and Error" process in design. The clear water that goes into the lava lamp installation represents a designer's own belief and original idea. The different dyes added are analogous to the comments and criticism received in a design process. The repeated cycle of opening up to new ideas and filtering out extraneous information refines and elevates the design without compromising the purity of the original idea.

The final lava lamps, like many design solutions, may not be perfect, but their uniqueness nevertheless makes them special.
Co-Creator
TH Studio (Steve Tam and Hin Tse)
Two architecture graduates (Steve Tam and Hin Tse) who are straying inside the hustle and bustle of the working field, slowly losing their enthusiasm. To revive the passion for design and to achieve their promised dream, the two started working together again, hoping to create new sparks when new ideas collide.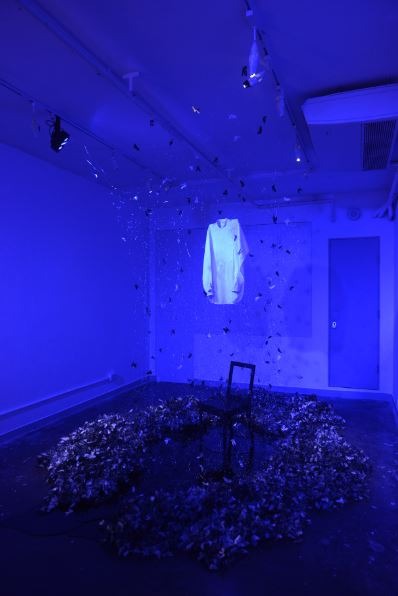 Exhibitions
One and Only
Unit S414, Staunton Block A
30.11 09.12
More than 20,000 butterflies, remnants of the "Trial and Error" process, are interconnected and bounded to each other by ultrafine wires like a network of nerves. The chair within this network represents human beings. The one and only butterfly that breaks out is illuminated (physically and metaphorically) by external lighting to symbolise a moment of epiphany.

The installation is a spatial interpretation and illustration of the relationship and contrast between "Trial and Error" and "Inspiration" through the use of metaphors.

Co-Creator
Nao Kimura
Nao Kimura was born in Tokyo in 1964. She graduated from the Theory of Design Department at Junior College of Musashino Art University, and graduated from the major program of the school above.

Nao Kimura was employed as product designer in the planning office of toymaker TOMY Company, Ltd. (currently Takara-Tomy Company, Ltd.) In 2009, she started creating her Metamorphosis installation series using countless number of butterflies. Miss Kimura was invited to hold numerous exhibitions not only in Japan, but also in other countries such as Italy, France and Sweden. She was awarded Arte Laguna Prize Special Prize (Italy) in 2017 and Higashi-Kuninomiya Culture Award (Japan) in 2018.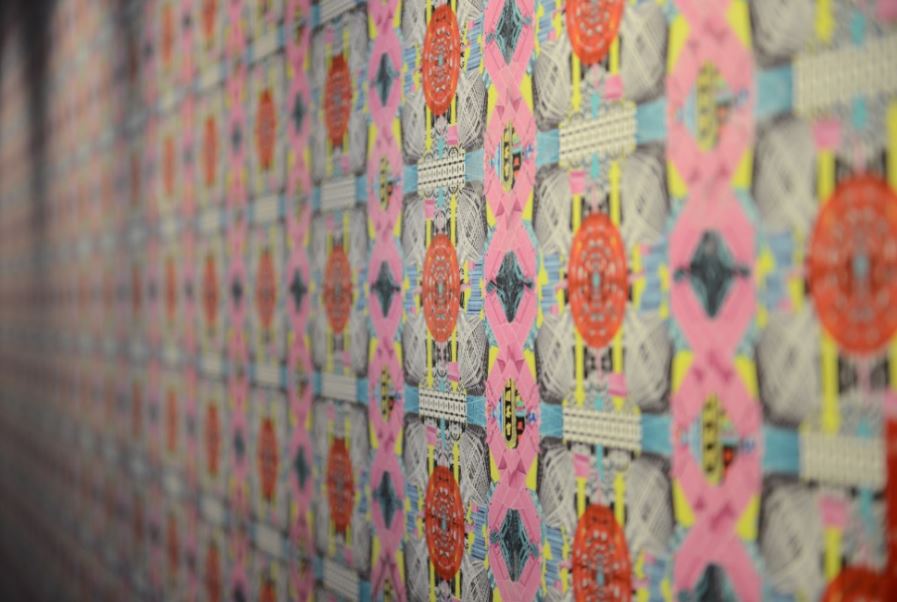 Exhibitions
Sensorial Estates: Hyper-Density vs Public-Privacy
Unit S209, Staunton Block A
30.11 09.12
Exploring topics of urban overcrowding, housing shortage and Hong Kong's urban spatial experience as a microcosm of extreme social disparity.

Examining the delineation between public and private space in the context of Hong Kong's urban experience, and the sociological and spatial narratives it tells us.

As 21st century cities have sprawled outward, with their spiralling behemoth ring-roads and expanses of suburbia, Hong Kong has instead expanded more deeply and densely into and unto itself – continuously cutting and creating more and more spaces out of its complex, congested urban fabric. Here, like nowhere else, entire global supply chains and systems of power are condensed into one metropolitan experience, from Guangzhou factories that supply the world's consumer goods to the dominating international financial institutions that dictate global markets. As the world's systems and structures become more volatile and complex, so too does Hong Kong. And so too does the resulting urban fabric of the city as it continues to expand into itself; its pockets of hyper-locality, the superimposition and segregation of contrasting cultural worlds, the widening extremities of the social classes, the mounting influence of Chinese empire encroaching on spaces of Hong Kongnese identity.
Co-Creator
WE-DESIGNS
WE PROVIDE CREATIVE STRATEGY FOR THE BUILT ENVIRONMENT ™
interactive experiences and spaces, audio-visual installations, shareable digital artifacts, and beyond.
WE are an international network of designers, architects, developers, digital media creatives, producers, brand consultants, art directors, academics, and hustlers.
WE are a generative creative agency delivering branded designs, installations and interactives through a new-technology and research-led approach. We have produced work for museums, festivals, art fairs, public installations, and fashion & lifestyle branding and retail concepts. Our media team develops concepts, audience engagement strategy, experience design, and activations. Our production and design team renders this into the physical, interactive, multi-sensory built experience.
WE believe the international virtual and Internet platform is a means of local to global collaboration, and our trans-disciplinary approach to designing surpasses the traditional physical space. Online video conferencing has become a norm within our practice, to engage with collaborators beyond the metric space and within various international cities. We believe in the many portals of open-source forms of exchange.
As a design practice, we believe that the future of collaborative work includes engaging the design agency beyond the architecture, and probing into various forms of fields and practices, including digital media, advertising, software, design-fabrication, and beyond. Our collaborations range from production work for large cultural events, designs for high-end fashion companies, installations for cultural institutions, to object-based product researched designs. We believe in working towards answering the larger definition of what architecture encompasses within new global practices.
WE DESIGN TOGETHER ™.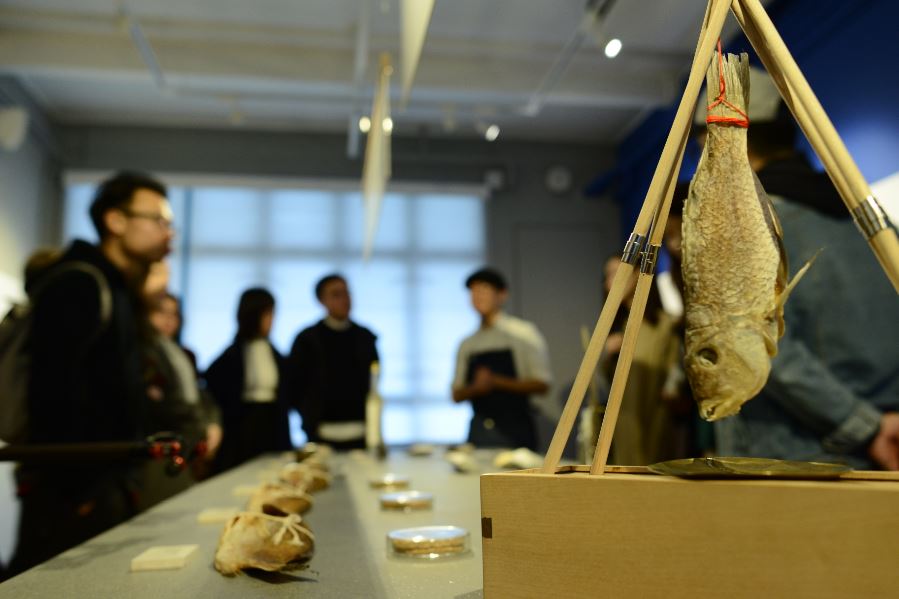 Exhibitions
Revive: Salted Fish
PMQ Taste Library, H504, Hollywood Block B
30.11 09.12
The same object often carries different meanings in different eras. The "salted fish" was a meal staple generations ago but has lost its popularity nowadays.

Designer Kay Chan collaborates with Taste Library to initiate an experimental project for a salted fish redux. A contemporary touch is added in every stage from the preservation, to appearance, to packaging design. Visitors are invited to view the salted fish from a brand new perspective.

Co-Creator
Kay Chan (Designer/ Co-curator)
Kay has been exploring sustainable social design, new design strategies and art projects that promote positive community and environmental values. In her recent collaborative community projects, she focuses on enhancing local public space to foster meaningful interactions within diverse communities and addressing environmental issues.
Co-Creator
PMQ Taste Library (Co-curator)
As Hong Kong's first and only food-focused library, PMQ Taste Library uses food as the cultural bridge to support, inform and connect individuals, community projects and organisations. Through creative projects and cooking workshops, Taste Library promotes the design of flavours and encourages the public to see food with new eyes. Food is, after all, more than survival.